Aboard a Black Legion cruiser, the Chaos Terminator Squad, the Blackguards of Enasyor, have initiated their profane arming rituals, and are beseeching the gods for a favorable teleport in this coming invasion. The liver and heart of the sacrifice used in their ritual was revealed to be jet black, an auspicious portent indeed.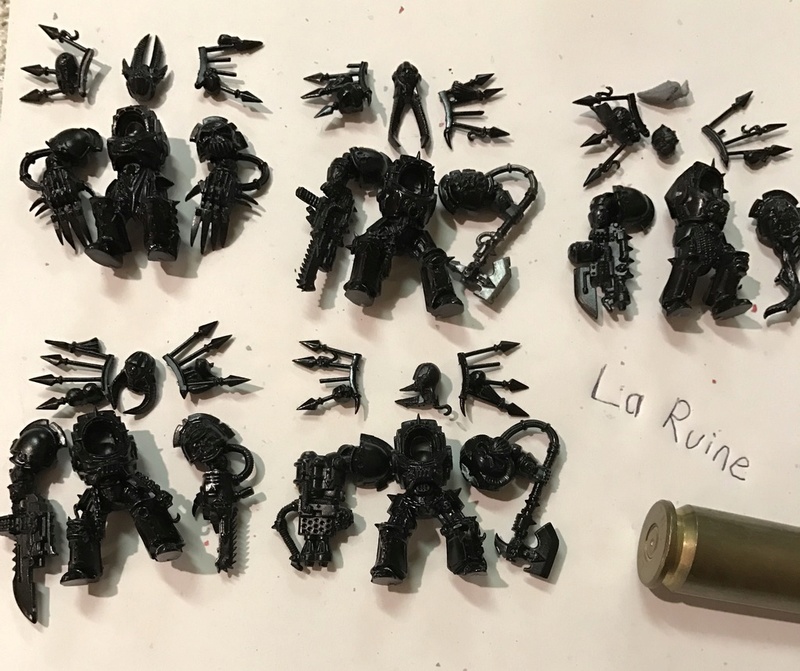 Terminator Champion with gift of mutation (tentacle arm) and combi-flamer, Chaos Terminator with combi-melta, Chaos Terminator with dual lighting claws, extra Chaos Terminator with chainfist, extra Chaos Terminator with heavy flamer.
208 points.
Escouade de 5 Terminators avec 1 combi-fuseur, 1 paire de Griffes Eclairs, 1 Poing Tronçonneur, 1 Lance-Flammes lourd
Dont 1 Champion avec Don de Mutation et combi-lance-flammes.
Posté par Carrack sur Bolter And Chainsword
Celtic_Cauldron
_________________
Tuer pour les Vivants! Tuer pour les Morts!